When did you set up Low Heels and why?
It was a lovely sunny day in May 2018, and I was on-line looking for a pair of going-out sandals. The search wasn't successful. I had wasted so much time and found nothing. It was then that I decided I would like to design and sell beautiful shoes in extended sizes.
Being 6ft tall with Size 9 feet, I have always struggled to find the right pair of shoes – especially for evenings out. I know first-hand how difficult it is to find something in right size which is chic, well-made, doesn't ruin your outfit and has a low heel.
Timing was perfect as I had spent last few years looking after my family and I was ready for another challenge.
And so I set up Low Heels in September 2018 and launched the website 6 months later.
What shoe sizes do you stock and where do you ship to?
We don't hold stock and there are a few reasons why. Initially, I was planning to sell from stock but then I established a relationship with the team of experienced shoemakers that had been making shoes in larger sizes for many years. All their shoes were handmade and a choice of styles they offered was incredible. I wanted to design my own styles also and I wouldn't have been able to offer such wide choice if I was selling from stock.
There is also an environmental aspect that is very important to me. By only ever making what is going to be sold, we are able to do our bit for the environment, with a more sustainable business model which reduces waste and avoids overproduction. I believe that when you set up new business these days, you need to think about an impact on the environment and you have to make the right decisions.
We make our shoes in sizes 8-12UK/41-45EU /10-14US and we ship worldwide. Women in USA love our shoes, but we receive orders from European countries too. UK is still our biggest market.
Tell us about the range of styles available
Where do I start? J We have over 70 styles on our website within 9 different categories: Sandals, Ballet Pumps, Court Shoes, Ankle Boots, Long Boots, Lace-up Shoes, Mules and Wedding Shoes.
We are currently focusing on our Wedding range and we will soon be able to offer brides with long feet some wonderful styles.
It's even possible to customise some styles which is really cool. Explain how this works.
Our shoes are made-to-order which means they are made for you and you can request different colour or material, change the heel height or add/remove accessory.
All our boots are made-to-fit, to make sure they fit your calf, knee or thigh (in over the knee styles).
We have access to some beautiful colours and can make very unique and original styles. And it's all for larger feet, yippee! All you need to do is to get in touch and we will take it from there.
What do you enjoy the most about running a store specialising in larger shoes sizes?
Helping other women make their shoe-dreams come true is on top of the list.
We (tall ladies with larger feet) are so used to boring footwear styles in dark colours that most of us don't even dare to think about something very different or unique. Low Heels offer shoes in bright colours and original materials and that's something that ladies with bigger feet have not had access to before.
Designing and making new styles is super exciting, too. We make shoes that are fashionable but not available in extended sizes. I am obviously spoiled for choice now, but I still remember what it was like to look at beautiful shoes, wishing they were available in bigger size.
But receiving a message from a happy customer always makes my day. It's the best feeling in the world for a small business owner.
Which 3 styles best sum up the Low Heels brand (include link to product pages).
It's so hard to choose only 3 because we have so many fabulous styles. But since it's autumn/winter season, I will start with boots.
First one must be Luna sock boots. They are made from hardwearing stretch textile and lined with leather. They look great, they are super comfortable and look amazing with jeans and dresses. We offer them in pointed or rounded toe version, in many different colour options. You can go for a bright colour in summer or choose darker tones for autumn/winter. They are one of our best-selling styles.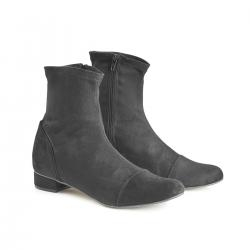 Yaga are another one of my favourite styles. Lace up, walking style leather ankle boots are very trendy and we adapted this style for larger feet. It's a classic style that will never go out of fashion. You can go for black, croc embossed finish or be more adventurous and choose one of the snake print finishes. Don't forget that the boots will be made for you and you can request completely different colour. We wear ours with ankle grazing denim.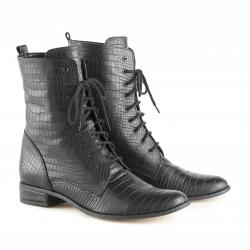 Now something for office or for going out… Sassy is one of our new styles. It's a low kitten heel sling-back with pointed toe. Low cut, very feminine style. We combined zebra print leather with black patent and the effect is fabulous! It's from desk to dinner style and if you thought that low heeled shoes in larger sizes could not look cute then check out our Sassy. You will change your mind.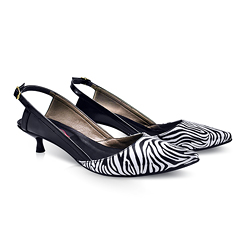 All our shoes are handmade in Poland by dedicated team of professionals, using only best quality materials and components from France, Italy and Spain.
I would like to encourage women with bigger feet to get in touch with us and let us know about the styles they have been seeking for or wanting to buy but couldn't, due to their feet size. We'd love to know your favourite styles and colours.
Please follow us on social media as we are planning exciting giveaways.
Thank you so much for giving Low Heels an opportunity to feature in Pretty Big Shoes blog!
Love
Joanna
This article originally appeared on Pretty Big Shoes