I decided to bring all the shoe samples I have collected since I set up Low Heels – trust me, that's a lot of shoes – and sell them at very low prices (mainly so I could make space for new styles!). After managing to pack everything into my 4x4, with the help of my husband, there wasn't an inch of space left. Off to London we went, with our Yaga Boots demanding that we stopped for Burger King en route (honestly, they made us do it!).
I was very excited about the event but a little bit anxious too. With Coronavirus dominating the news, Emma and I were worried the numbers on the day were going to be low. Our first guests arriving early was a good sign…
I needn't have worried. I had a great time meeting some of my customers for the first time, and sold nearly 40 pairs of shoes on the day (with orders for some new styles, too).
There were some new faces and faces that I already think of as friends of Low Heels. It was lovely to meet beautiful tall women, who – like me – have always struggled to find shoes in their size. Seeing them trying my shoes on, choosing their favourite styles and asking questions about different options is a hard feeling to beat. It makes every moment of doubt worth it to see the impact my shoes can have on other women.
One of the highlights was the raffle. The prize was a free pair of Low Heels shoes and a free jacket by Allta. Our lucky winner was Maxine, who will now have to make space for yet another pair of our beautiful shoes in her collection. But you can never really have too many shoes, can you?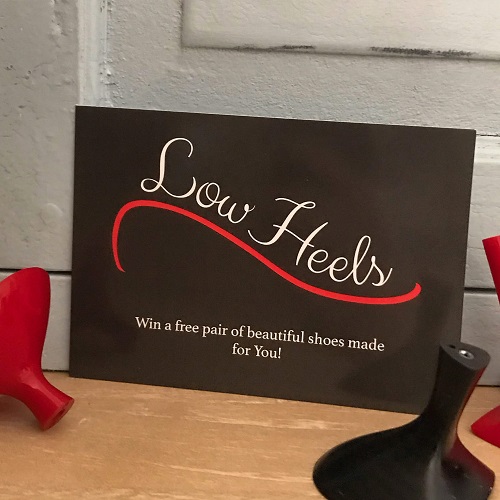 The pop-up was a huge success, so I am hoping to organise similar ones throughout the rest of this year. I really enjoy the buzz of meeting, chatting and hanging out with Low Heels women. As an online business, opportunities to connect with my customers face-to-face is lacking, unfortunately. Watch this space (or sign up to our newsletter) to be the first to hear about other events.
Thank you so much to all ladies that came and bought my shoes and thank you to Emma for being a great partner. Big thanks also must go to my husband Chris, who helped so much.